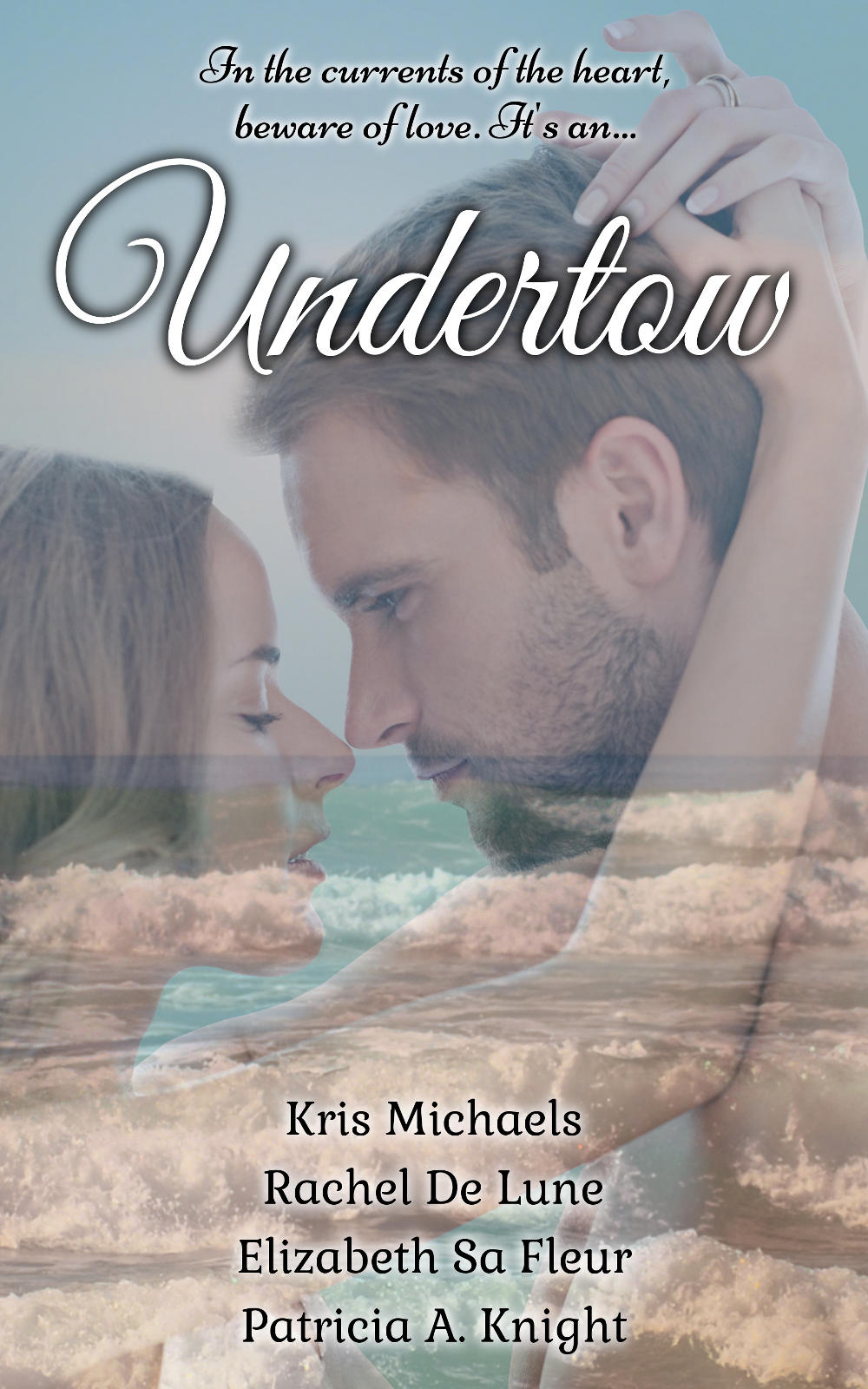 My first short story and my first cover reveal – OMG!
Undertow is a collection of four short hot and steamy romances. Get ready to meet Cole, Aeron, Bret and Max. Four very… interesting men.
I loved writing The Break. As a newbie writer, putting pen to paper for characters other than those from my Evermore series was daunting. I'm so pleased with this little story and hope you enjoy it.
Undertow is available on Amazon now. My email subscribers will receive The Break for FREE. Just sign up here.
The Break isn't the only novella you'll get to enjoy in Undertow. If you're not already familiar with the other fabulous authors then go check them out. Kris Michaels, Elizabeth SaFleur and Patricia A Knight.

Dear Readers,
Welcome to a Troll River Publication collection of short stories. This is the perfect introduction to some of the lovely authors in our romance group. Their styles are unique to them. But whether in the far distant future on an alien planet, jostling down the streets of Regency London in a carriage or fighting the congestion of modern Washington D.C. traffic, their stories share a common theme: strong heroes, hot sex and happily-ever-afters.
I've put together a sampler box of their short stories that are perfect for those lazy days at the beach, or poolside, when you want something to read that's not too heavy, never sad and guaranteed to end well. So, slather on the sunscreen, slip those sunglasses on and let us entertain you.
Warm regards,
Stephanie McKibben
Troll River Publications
---
 Blurbs and Excerpts 
---
Backwater Blessing
by Kris Michaels
Blurb:
When Cole, Mr. FBI, and Logan, local cop and reigning Ice Princess, hook up to solve a case of Mississippi corruption at the highest judicial levels, sparks fly. Their attraction is hotter than the sultry southern sun. She wants to hate him—but she can't. And Cole would never commit career suicide by staying in a backwater Mississippi town…not for any woman…especially not for Isabella Logan Church.
Excerpt:
A single eyebrow arched and a small smile tugged up the corner of Cole's mouth. Logan leaned forward and brushed her lips against his. He held still and that control won him some points in her book. The Fed had restraint. The question was how much?
Deliberately she pushed her bikini clad breasts against his hard muscled chest and lifted her hand to caress his cheek.
"If you are worrying about me being able to sell it…don't. I don't have to like you to act like I am making love to you." Her purred words sounded breathless and needy even to her own ears. She turned and walked out of the cabin before she did something stupid. Like crawl up his big sexy body and kiss him until his federal reserve broke.
The Break
by Rachel De Lune
Blurb:
When Victoria Abbott makes the hard journey back to her quaint, seaside hometown in Wales, she's unprepared for the guilt that claws at her. At the same time, she's instantly calmed by being on the sands where she spent time as a child. Her self-imposed rules never before gave her a shot at true happiness and she's not sure if she can face a second chance. But when she walks into Aeron Morgan's life, all that changes.
Aeron Morgan has all he wants from life. A financially successful business and the house of his dreams sitting on the cliff overlooking Oxwich bay. Until Victoria Abbott walks into sight. Not content with a one night stand, he wants Victoria to accept him and his darkest desires, forcing her to become the woman he knows is under her suit of armor. With her independence on the line Victoria grapples with choosing her dreams over what she's worked so hard for all her life.
Excerpt:
I tease my skirt a little higher, revealing some flesh before slipping the first button on the front of my dress. Without knowing, I chose the perfect outfit. Once the second button is free, I look up at Aeron. Lust gleams from his eyes, and they drink in the body I'm slowly revealing to him, button by button.
I slink closer, standing a fraction out of reach as I undo the last button. I slip the dress slowly off my shoulders and let it drop to my feet. I step out, and close the final gap between us. He straightens and once more he sweeps my body with lust filled eyes. I take a breath and unhook the back of my bra and slip it off my shoulders. Hooking the sides of my thong, I inch my knickers down my legs as seductively as possible. The appreciation on Aeron's face is all I need to bolster my confidence. I bend down, collect my knickers from the floor and strut to him. Dangling them over his lap, I drop them.
"Straddle me." Aeron's smoky voice is deeper than before. My little strip show has definitely affected him. The knowledge he is aroused spurs me on. Swinging my leg to sit on his lap, I position myself on his thighs. He has a clear view of my pussy. He hasn't tried to touch me. His hands remain firmly by his side. I'm amazed… and disappointed.
"Make yourself come for me. I'm going to watch you come undone on my lap before I take you."
Riptide
by Elizabeth SaFleur
Blurb:
Cheated on, dumped and fired—all by the same man—Ava Hollins' only goal on her Caribbean vacation was to forget men existed. When she wins hot, wealthy, resort owner, Bret Wright, during a charity "man auction," she's not sure what to do with her suddenly acquired "love slave." Fortunately, for Ava, Bret knows exactly what to do with her.
Excerpt:
Bret kept his eyes on Ava's face as he looped two lengths of rope around her rib cage, one on the fleshy mound of her breasts, the other underneath. A gentle yank and the two pieces squeezed her breasts outward. The rough rope bit into her skin, and her breathing sped up.
"If you ever feel dizzy, tell me," he said.
All she could do was nod. Her power of speech had fled.
"If it comes to it, I'll cut the rope. Do you understand?"
"Yes." She barely breathed the word. She tuned into the full length of his body now pressed closer against her, as if he meant to keep her steady and present. Even with rope biting into her skin, she loved being this close to his body. And, what a body. Even clothed she could tell some serious muscle lived behind those pants and shirt.
More pulls around her ribcage shifted her focus. She dropped her chin, fascinated by the beautiful knot he'd formed on her sternum. The ends dangled, tickling her belly. He lifted her chin and looked deeply into her eyes. Keep your eyes on me, they transmitted.
Yes, sir.
His hands returned to their work. In seconds he had her wrists crossed and tied together with another short length of rope. He tugged her closer. She blinked but didn't dare break his gaze. He sealed his lips to hers, and his tongue moved slowly while his capable hands explored her body, fingers slipping under the ropes as if checking the level of restriction.
He released her mouth. She felt more, gentle, scratching pulls on the rope. A downward glance revealed her chest and belly encased in an intricate diamond pattern make of jute. She inhaled deeply, testing the restriction of her rope top. Could she get out of it, if needed? She expanded her chest again. No, I can't. Moisture gathered between her legs in response. She looked back up at his face, now tilted in question. Without him having to ask, she knew what he sought.
"Amazing," she said.
He smiled. "I'm glad you appreciate my work."
The relief in his eyes spurred her courage. "Will you do more?" she asked.
"Oh yes, baby. So much more."
Undertow
by Patricia A. Knight
Blurb:
Former Army Ranger, Max Harper, didn't know the young woman playing fetch on the beach with his therapy dog—but he wanted to. From his first meeting with Holiday Jones, her fresh beauty and soft heart swept him away. The wounded veteran knew he wanted forever with Holiday. There was just one small problem. She thinks he's someone he's not. When his down-to-earth Holiday learns who Max really is, love might not be enough—for no matter how generous a woman's heart, it's difficult to forgive deception.
Excerpt:
After he covers Miss Kitty and her surrounding cast in white foam, Max sits back and inspects the area he's prepped. He rinses his hands in the water bowl, dries them on the sofa cushions and then selects a razor as if he were an open-heart surgeon selecting a scalpel.
I wiggle a little and whimper, "Max, pleeease, finger fuck me…please, please, finger fuck me."
He shoots me a happy little smile, flourishes the razor and begins gently scraping my groin with the care of a jeweler faceting a diamond. My inner slut gets on stage and shouts cuss words. I have no excuses. She has a potty-mouth. By the time Miss Kitty is as bald as Vin Diesel, Max has teased me to the brink of orgasm. The soft strokes that almost touch my clit are the worst. When Max finishes and drops the third razor in the water bowl and rinses his hands, I could come if he breathed on me. Max simply grins, parts my swollen lower lips with his thumbs, and exposes my aching clit. "God damn, Holiday. You're so pretty." He holds me with an intent stare and gravely announces, "Rangers lead the way," before closing his lips and tongue over my clit and sucking gently.
I go off like the A-bomb dropped on Hiroshima in those old newsreels from WWII. Yeah. That could have been me. When I regain conscious thought, Snafu is raising a ruckus at the door, barking and scratching to be let in, and Max slumps on the ottoman in front of me with a look of gloating male satisfaction.
"I woke the dog?"
"You were pretty loud, babe."
"Did I scream your name?"
He gravely shakes his head. "No, babe. You didn't scream my name and you know what that means."
My eyes widen.
"We have to do it again."
Max kept his promise.
---
Disclaimer – the final manuscripts are still being edited so some language may change. 
June 2015