Reminiscent Hearts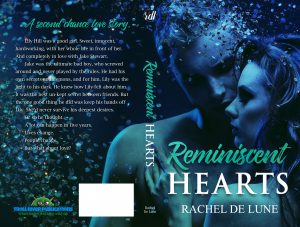 A second chance love story.
Lily Hill was a good girl. Sweet, innocent, hardworking, with her whole life in front of her. And completely in love with Jake Stewart.
Jake was the ultimate bad boy, who screwed around and never played by the rules. He had his own secrets and demons, and for him, Lily was the light to his dark. He knew how Lily felt about him. It was the best un-kept secret between friends. But the one good thing he did was keep his hands-off Lily. She'd never survive his deepest desires.
Or so he thought.
A lot can happen in five years.
Lives change. People change. But what about love?
Available to buy:  
Amazon.co.uk  |  Amazon.com  |  Barnes & Noble  |  iBooks
Reviews
5 starsGreat angst story! Love it!
Lily a good girl smart as can be but has a huge crush on Jake the guy in her class who is handsome and gives her butterflies just looking at him. Jake tries to stay away from Lily she's a good person as he isn't he loves her but knows she deserves better . Years go by and Jake goes to a club and ends up kissing a girl who ends up being Lily. Why has Lily changed? Will Jake be able to stay away from Lily still? Angst and drama in this book. You will be turning the page wanting to know what happens next. 5/5 stars
RH has got to be one of the best second chance romance books I have ever read
RH has got to be one of the best second chance romance books I have ever read. And that's from a huge list of second chance books.
Lily and Jake had a very special bond. But one thing held them back. Jake thought he wasnt good enough for her. He was on the path of destruction and she was the angel in his darkest of days.
But time does change people. He found his way…sorta
She has lost her way. Until one day when their paths meet again. And whoa have the tables turned.
This is the first book I have read by this author. I assure you, it won't be the last.