This month is full of some great new releases that I'm so excited about, I wanted to share them with you!
Kris Michaels, Elizabeth SaFleur and H.A Robinson are all celebrating their book babies in July. A range of romances sure to get your hearts beating and pulses rising. I asked each author two quick questions to help you get to know them; If they could only read one author for the rest of their life, who would it be? And, what their favourite line from their book is.
I hope you enjoy these little glimpses and the great teasers they are sharing!
---
Jacob – The Kings of Guardian Book 1 by Kris Michaels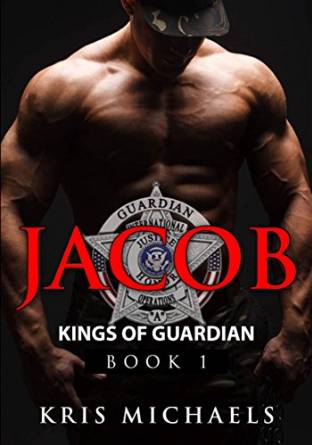 Victoria Marshall didn't cooperate by dying in the Afghani hell-hole like the CIA expected. Defying all probability, a privately-funded black ops group led by a handsome, sexy-as-sin southerner pulled her out of the warlord's prison cell and brought her home. Even half out of her mind with pain Tori knew this man was special. She made a date with the commander to meet one year later at a restaurant of his choice. Keeping that date was the best thing she ever did.
Jacob King found little physically attractive about the woman he saved from the warlord's camp, though it was hard to see what lay under the filth and suppurating wounds she suffered from countless beatings. He admired her brave humor in the face of her agonizing injuries. This kind of tough-minded woman was someone he'd like to know as a friend. He never expected the leggy, blond bomb-shell in the red dress who showed up for their date.
But then he never expected she would save his life, either. In a world of shadows, smoke, and dangerous covert missions, where people routinely vanish and living one more day was never a given, Tori and Jacob fight to build their happily ever after.
* * *
KM – Only one author for the rest of my life? Oh girl, that would be hell on earth! I don't know that I could narrow it to one, but if I had three it would be J,R. Ward, Kindle Alexander and Robyn Carr.
KM – My favorite line from G1? Wow…I think it would be the last line of this teaser. Haven't we all wanted to be bold enough to say something like this? I love Tori's spunk. The woman is strong willed and knows what she wants.
"Tori looked through her lashes at him for a moment before lowering her eyes to the table. The glance radiated sexual innuendo. "And, I think sex with you could be phenomenal."
Excerpt – 
"This is so good! I'm impressed that you own part of this place."

Jacob reached for his wine glass. "I can't take any credit for this. Justin is the mastermind behind the businesses. My brothers and I gave him some startup money and he has bankrolled it into four extremely profitable businesses. He has a way with people and money."

Tori took the last bite of her steak and measured him carefully as she chewed. Lifting her finger she pointed at him. "You know, you have quite a way with people, too."

Jacob chuffed air out of his lungs and shook his head. "Not true. I'm close to my family and my team. I almost never associate with anyone outside that realm."

"Am I an exception?"

"Yes."

"Why?"

"It is simple and complicated. When you should've been comatose or out of you mind with pain, you were cracking jokes and carrying a conversation. I don't usually mix my business endeavors and my personal life, but you were unique and interesting. I thought I would enjoy knowing you as a friend."

Tori cocked her head. "A friend? Really? That's…interesting."

"Why did you come back for the date? You must have had to travel to get here if home is Small Town, U.S.A."

She picked up the wine glass and once again swirled the deep red liquid before she responded. "Oh, I guess I had several reasons."

She up-ended the glass and drained the last of the vintage. After placing the crystal on the table with excessive care, she rested her chin on her hands. "I came back because you saved my life; because you were the only thing that kept me from going insane from the pain that night; because I thought I would enjoy knowing you, and…"

"And?"

Tori looked through her lashes at him for a moment before lowering her eyes to the table. The glance radiated sexual innuendo. "And, I think sex with you could be phenomenal."
Jacob is available now
Amazon – http://www.amazon.com/Jacob-Kings-Guardian-Book-1-ebook/dp/B00VMVL2R6
---
Max Colton's Road to Wonderland by H.A. Robinson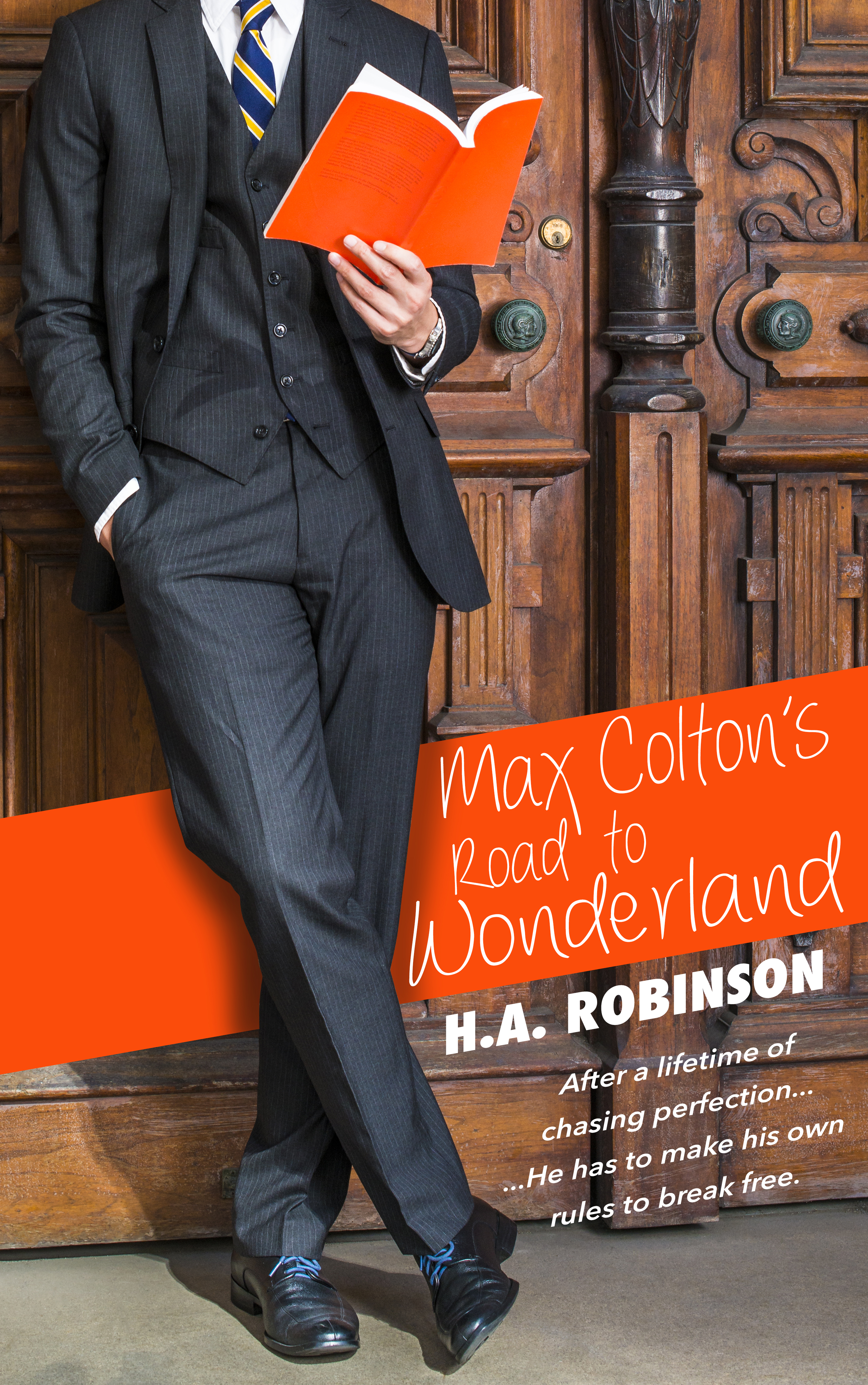 Growing up with certain expectations and your entire life mapped out for you is never easy, but when the bar is set impossibly high, most would give up.
Not Max Colton.
Even as a child, his father is unrelenting. Discipline, rules and rigid control are all he knows. Nothing Max does is good enough, and no matter how hard he works, approval and recognition are always just out of reach.
From boarding school to university, Max gets a glimpse of the freedom he's always been denied, and learns unexpected things about himself along the way. When he somehow finds himself thrust back under his father's iron rod of control, that freedom proves harder to let go of than he anticipated and he finds himself caught in a balancing act between his lifelong battle for his father's approval and living out his own hopes and dreams.
With loves found and lost and his friends at his side, Max has to navigate through the world one step at a time. People aren't always as they seem, and every stone unturned reveals a new challenge, bringing him closer to a future that has always seemed elusive and uncertain.
A future that holds success, freedom and love he never expected to have.
A future that will offer loyal friends and a home that isn't confined to a building.
A future that leads him to Wonderland.
* * *
H.A.R – My favourite author is JM Darhower.  Her books are ones I go back to over and over and they never fail to give me feels. She writes great characters with so much emotion. Her books make me laugh and cry in equal measure and I won't stop until everybody I know has read them.
H.A.R – "Perhaps it's impossible to almost kill somebody and not come away feeling a little bit like you've known them your whole life."
Max's story is the 4th in the Road to Wonderland series but can be read as a stand alone.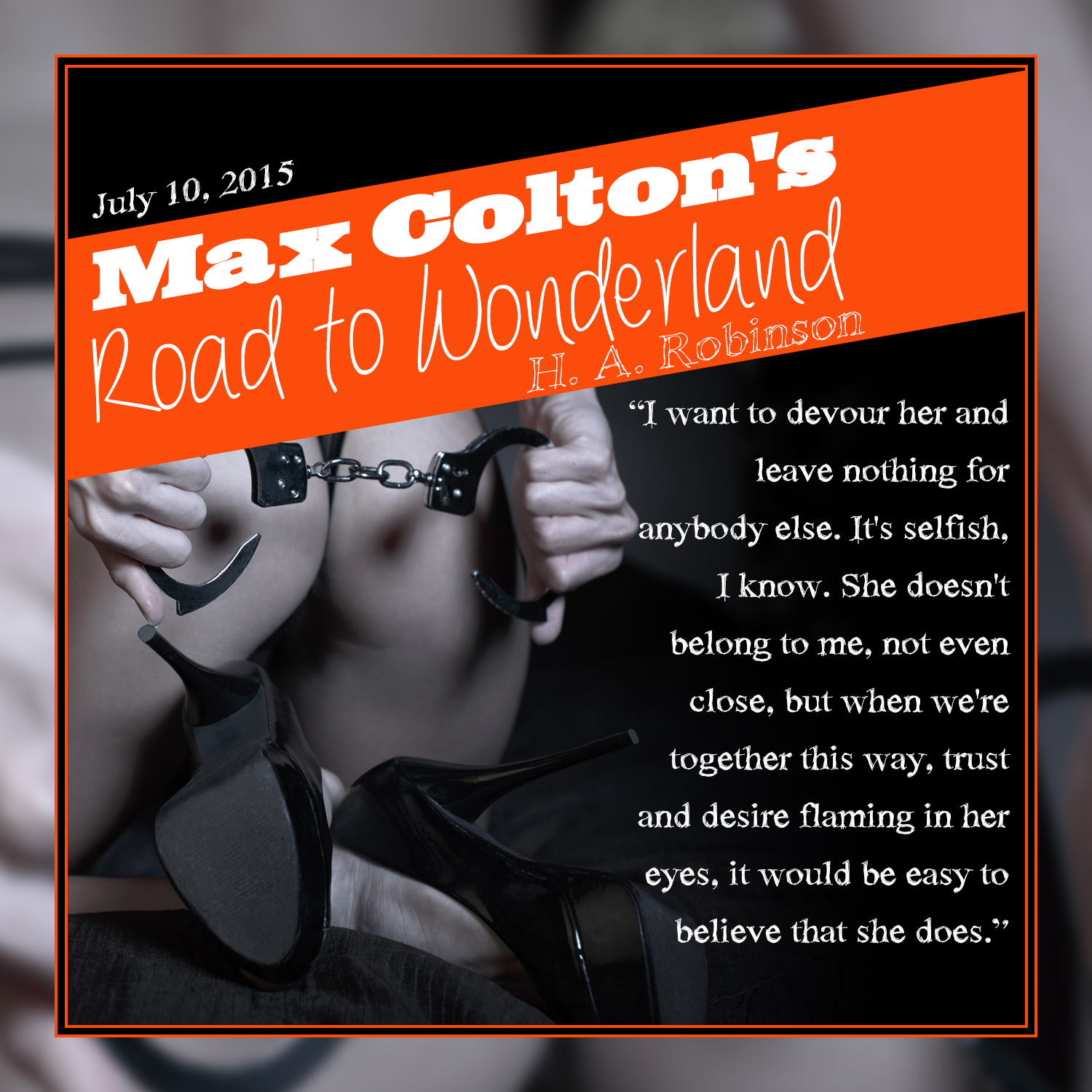 Max Colton's Road to Wonderland is out 11th July and is available to pre-order now!
Amazon – http://www.amazon.co.uk/Max-Coltons-Road-Wonderland-Book-ebook/dp/B010M4R8JY
---
Untouchable – Elite Doms of Washington Book 2 by Elizabeth SaFleur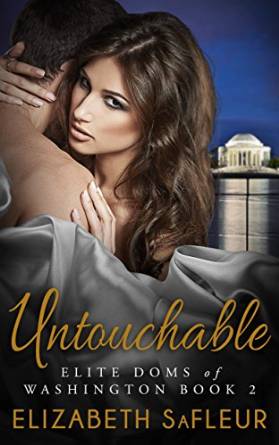 Wealthy Washington, D.C. corporate attorney and seasoned Dominant, Carson Drake is the master of the romantic pre-emptive strike. One weekend is all he needs or wants, and every relationship is over before it begins.
But London Chantelle, his company's public relations "princess," intrigues and provokes the protective alpha male in him. Outside the office, their unexpected meeting at a local BDSM club presents the opportunity to do what he's always wanted—earn her submission. He proposes a unique weekend of sensual pleasure. Though damaged from her history and mistrustful of men, London agrees to forty-eight hours with Carson, anticipating she could finally put her unwanted, darker longings to rest.
The passionate weekend proves beyond what either expected and they quickly discover how perfect they could be together. But London's long-buried secrets and a blackmailing co-worker interrupt their weekend of romantic exploration. Carson calls on the powerful and secret Tribunal organization for support. But soon the greatest threat to Carson and London's relationship is revealed—their own assumptions about love.
* * *
I've hosted Elizabeth here on my blog before. She's a wonderful author and has been a great support for me. We've talked books and authors before on social media so I guessed what she'd come back with for my first question…I wasn't wrong!
ES – Joey W. Hill
ES – Two lines actually!  "What will happen if I say yes?" ~London
"What you want. What you've probably always wanted." ~Carson
Excerpt:

The loud rasp of leather yanked through Carson's belt loops sent her attention to his torso.

"What are you doing?" London's panicked gaze shot to his face.

"I don't have a collar on me."

"I am wholly disinterested in being collared."

"One weekend, London." He grasped one of her hips with his free hand. "If you're

disappointed at any time, you can walk. I'll never speak of it again. Our work together will go unaffected. No one—and I mean no one—but us will know."

"Would you put that in writing?" Her eyes filled with mischief.

Priceless. London lured him toward a lightning storm. He could play. Hell, nothing appealed

in the moment more than a weekend playing with London. Yes, this is what he wanted. Now he needed to know if she was willing.

"I'll do one better." He snaked the belt around her waist until the leather rested against her hips.

"I'm not a notch on a belt."

"You could never be a notch, London Chantelle. You're the whole belt, sugar."

Her face softened, and the playfulness in her eyes died. He recognized the deliberation behind them, the wonder if she'd be safe, here and at work. London needn't have worried. She might get scared, but mutual satisfaction was the only way his brand of sexual fulfillment worked.

"Say yes or no." He pressed his torso to her corseted body, the last space between her body and his obliterated. "But say yes."

"What will happen if I say yes?"

"What you want. What you've probably always wanted." Her eyes misted with a surprising vulnerability.

"Yes."
Untouchable is available now!
Amazon – http://www.amazon.com/Untouchable-Elite-Doms-Washington-Book-ebook/dp/B00V8CZ3KG