It's #TeaserTuesday, and the lovely R.J. Prescott  has given me this new and exclusive teaser to share with everyone. Isn't it gorgeous! Once I put my tongue back in my mouth, I got chills from the quote. Looking forward to reading more of R.J's words.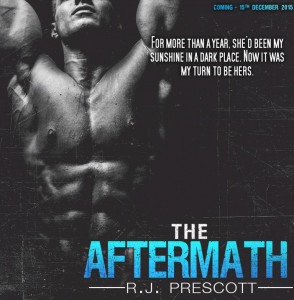 Preorder Link:
UK: http://www.amazon.co.uk/dp/B010PIF9AW
Releases 15th December 2015
When you've got nothing, you've got nothing to lose. But what happens when you have everything you ever wanted? You fight to keep it.

Cormac "the Hurricane" O'Connell's star is on the rise. Billed as the most promising young boxer of his generation, his new career is taking him to places he never dreamed. But O'Connell only needs one thing in life: his wife. In her final year of college, Em cannot follow him around the world but together they make it work.
Just when everything they ever wanted is on the horizon, the past resurfaces to haunt them and O'Connell realizes that justice might not be a part of his happy ever after.
He couldn't protect Em once before, but in the aftermath of the hurricane, he will make sure that never happens again.
More 'visually stimulating' teasers for both The Aftermath and The Hurricane are on R.J. Prescott's Facebook page…
If you're new to R.J. Prescott, you have time to catch up on her USA Today Bestselling smash, The Hurricane, where we meet O'Connell and Emily.
UK – http://www.amazon.co.uk/The-Hurricane-R-J-Prescott-ebook/dp/B010MI6DXM
US – http://www.amazon.com/The-Hurricane-R-J-Prescott-ebook/dp/B010MI6DXM