The lovely Stephy from Troll River Publications asked me a few questions to help get to know more about my new release. I hope you enjoy!
You seemed to have been able to reach into the minds of unsatisfied married women everywhere. What was your inspiration for Izzy, Seb and "More"?
I love reading, especially books in the erotic romance genre. I often get swept up in the fantasy of what these romances portray and I love the escapism that they provide me. However, I wanted to feel like these fantasies, these stories, could happen.
Unfortunately, adultery, divorce or un-happy relationships are a common aspect of life. If you haven't been effected directly by it, the likelihood is, you know someone who has. While I don't condone Izzy's actions in the book (I'd like to say I am happily married!), I think there are elements that are very relatable to women everywhere.
We've all fantasied over the tall, dark and handsome (please add your own physical traits to suit) stranger, whisking us off our feet and showering us with love and affection. That remains in my story. It's just a little more real.
I was also sure that I wanted Izzy and Seb to have to fight. That it wouldn't be an easy relationship and that simple and often small things could unsettle them, again, much like real life.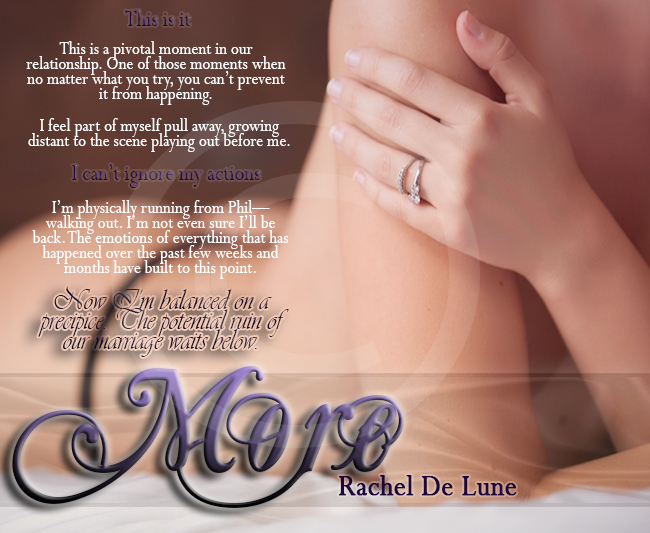 Will there be a sequel?
Oh yes! I'm finishing it off at the moment. Izzy and Seb's journey isn't over yet.
What are you writing after that?
Well, there are a few projects underway but I will be continuing with The Evermore Series. Jess will be getting her story soon. In fact, I'm really excited to get to her. I had only originally planned to write Izzy and Seb. Then one evening, stuck in traffic, Jess' whole romance came to me. I had to dictate it into a voice memo on my phone as I didn't want to forget it.
What kind of Dom is Seb?
Seb has a line in More, where he tells Izzy that he considers himself a considerate Dom. For me, I wanted him to have authority but also have a likeable side. Not too intimidating. He's also got his own flaws. One thing about this story that I wanted to come through was that the characters aren't perfect. I wanted it to feel grounded in real life. A Dom who has struggled to find his perfect match, in and out of the bedroom. That's how i've pictured Seb. Confident and successful, but with something missing in his life.
It's all part of the fantasy of it. That there is this amazing man out there ready to swoop in and rescue you and offer you everything you've ever dreamed of!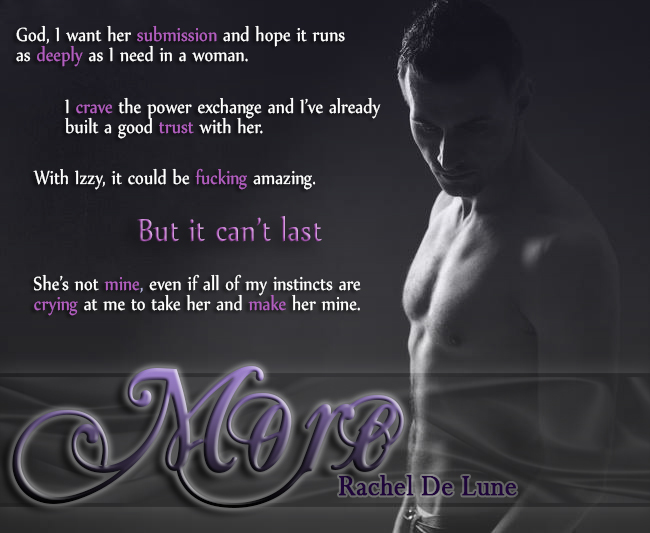 What traits do you think are needed for a relationship to work?
Love, understanding and communication. Oh and laughter! We see Izzy struggle in her relationship and a lot of that can be put down to her issues with communication. Sometimes it can be hard. Relationships aren't easy but those four things will certainly help.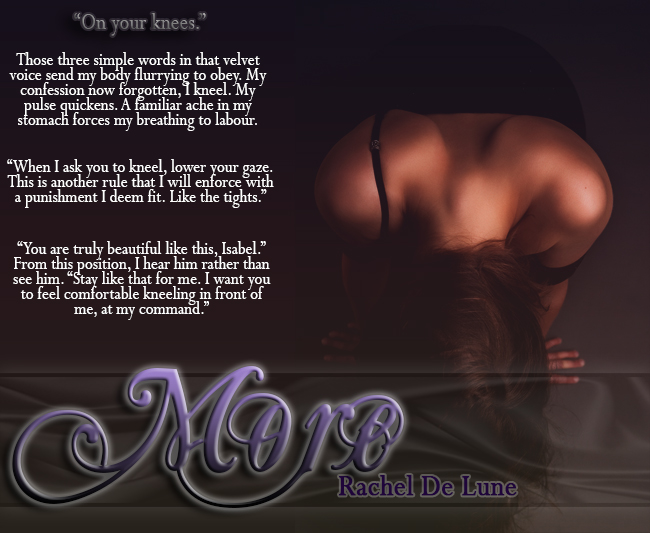 What would you say to all those on Ashley-Madison?
I find it quite amusing that there's even a dating sight for married people. 'Life is short. Have an affair.' Really?? If you're that un-happy in your marriage, then talk to your partner and try to sort it out. An affair isn't going to be your answer.
And if your name was leaked, serves you right!

More: The Evermore Series (Book 1) will be released 25th September. 
Read 4 Review
If you like what you've read so far, you can take part in my Read 4 Review event by signing up here: http://eepurl.com/by3TmL
You'll be sent everything you need to know, including an ARC copy. All participants who leave a review on Amazon will be entered to win one of five signed paperbacks of More, a $10 Amazon gift card or a $25 Amazon gift card.
In case you need a little reminder…
Miserable and dejected in her marriage, Isabel Fields encounters a stranger in a bar promising an opportunity to change her life. Nonetheless, she must make a decision she thought was reserved for other women. 
Sexual dominant, Sebastian York, specializes in igniting passion in his lovers, but women always come and go, and he's never had a woman to call his own.
Leading Izzy, a natural submissive, on a journey of sexual awakening, their casual arrangement soon grows too confining. Seb satisfies everything Izzy has craved and she instinctively bows to his dominant personality, fulfilling his every desire.
Their casual arrangement ignites Isabel's long-buried passion and touches her heart, but Izzy struggles with the emotional turmoil that plagues her soul.
Sacrifices will have to be made by both, putting their love to the test. Izzy stands to lose the marriage she dedicated years of her life to, but has a chance to gain a relationship she's always longed for. All depends on whether Sebastian proves to be the love of Izzy's life, or leaves her wanting more…